Visit to the Barça Stadium and Museum
Immerse yourself in the culer experience, touring the Barça museum, where you can see and understand the entire history of the most important clubs in the world. Have fun with the interactive room and the panoramic tour of Camp Nou.
THE CAMPNOU IS UNDER CONSTRUCTION AND THE VISIT MAY SUBJECT MODIFICATIONS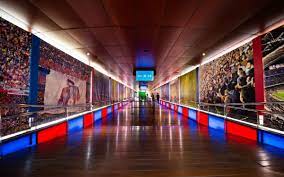 Futbolmanía Mega Store
The largest football store in the world. Modern sports store specialized in football boots, balls and equipment from various teams and brands.
OUR VISIT INCLUDES
Bus transfer to Barcelona (round trip) + Entrance to the Camp Nou Museum + Futbolmania (free visit) + panoramic tour of Barcelona.